Delta VFD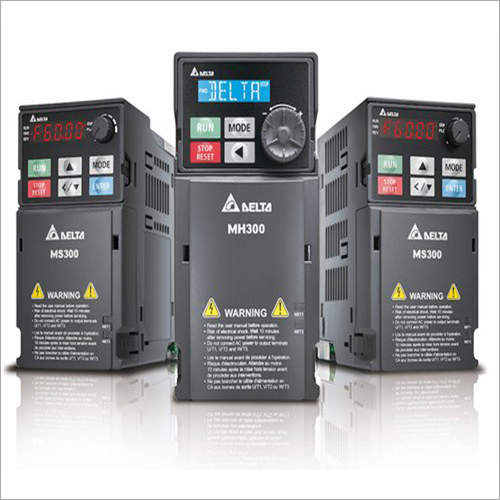 Delta VFD
Product Description
CH2000 Series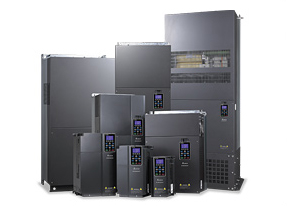 Using new drive technology, Delta presents you with its next generation CH2000 Series AC Motor Drive. Providing high performance with robust design the CH2000 is equipped with a larger starting torque and high overload capability to fulfill the needs of heavy load and impact loading applications.
Specifications
Super Heavy Load (SHD)
— Overload ability: rated current of 150% up to 60 seconds, 200% up to 3 seconds
— Starting torque: above 200% at 0.5Hz in normal conditions, up to 200% at 0Hz in FOC+PG mode
— Output frequency: 0.00~600.00Hz (for model above 90kW: 0.00~400Hz)
— Induction motor and synchronous motor control
— Built-in PLC program capacity: 10K steps
— Noise reduction
C200 Series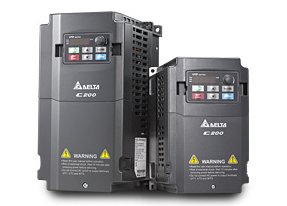 The VFD-C200 Series is an intelligent vector control micro drive that provides versatile control modes for motors and includes built-in PLC functions with capacity up to 5,000 steps. It is suitable for harsh environment applications with a strengthened thermal and anti-dust design that provides comprehensive protection.
Specifications:
— Built-in PLC program with 5,000 steps capacity
— MODBUS RS-485 and CANopen (Slave)
— The high-brightness LED keypad shares the same extension cable of the VFD-E/M/B Series to maximize operation distance
— Supports open loop control of permanent motors (PM Sensorless)
— Two high speed pulse input terminals MI7 and MI8 built-in with maximum speed up to 33kHz
— Two high speed pulse output terminals DFM1 and DFM2 built-in with maximum speed up to 33kHz
— New PCB coating for circuit (IEC 60721-3-3 class 3C2) and thermal design suitable for harsh environment applications
— C200 Series Frame A supports wall mounted installation
C2000 Series



The VFD-C2000 series is a high-level field oriented control AC motor drive with a high-performance variable-frequency technology, FOC control. It features versatile driving controls, modular design, wide variety of applications, easy maintenance, low malfunction rate, self diagnosis and competitive market price and brings customers not only the high-efficiency construction but also the most economic solution to compete with the global market.
Specifications:
— Speed/torque/position control mode, dual rating design (Normal duty/heavy duty)
— Outstanding 4-quadrant torque control/limit
— 2 in 1 (induction motor and synchronous motor)
— Built-in Delta PLC function, safe stop function and brake unit
— Support of various network protocols
— Synchronous position control
— Long-life design and life detection of important components
— Enhanced protections and adaptation to ambient conditions
— Complies with global safety standards, including CE, UL and cUL
— Modular design for easy maintenance and many extensions
— High-speed communication interface with built-in CANopen and MODBUS communication (optional cards for PROFIBUS-DP, DeviceNet, MODBUS TCP and EtherNet/IP)
CP2000 Series



Delta's Sensorless Vector Control Drive CP2000 Series has extended the idea of energy saving and uses this principal as the basis of its design. The CP2000 is specifically designed for applications such as air blowers, pumps and HVAC drives with its intelligent PID control providing the greatest efficiency. The Sensorless Vector Control (SVC) offers timely response to load torque increase/decrease which satisfies customer requirements for load changes while enhancing motor performance. A 3-step V/F curve response is used in the variable torque environment to adequately adjust the input voltage and attain the greatest overall performance; this function is especially helpful in pumps and fans applications. It also includes additional functions for operation and protection in variable load environments, such as flying starts, auto-acceleration/deceleration, momentary power loss restarts, auto-tuning, and more. The CP2000 series provides you with the ultimate energy-saving solution for your applications.
Specifications:
— With a built-in 10K steps Delta PLC allows user to execute distributional control and independent control when connecting to a network system. Delta CP2000 series drives provide you the intelligent control possibility beyond your imagination.
— The calendar function allows user to program the PLC procedure, the ON/OFF in chronological order, the daylight saving time and etc.
— A wide range of models (0.75~400KW) to fulfill the demands of different industries.
— The modularized design eases the maintenance and expansion.
— High speed communication interfaces with MODBUS protocol and BACnet protocol built in. Diverse communication methods to satisfy clients@@ needs on multi-controls. So the following options are available for you: the ProfiBUS-DP, the DeviceNet, the MODBUS TCP, the Ethernet-IP and the CANopen Cards.
— Long-life design and self diagnosis for key components.
— Special PCB coating design (Printed Circuit Board) for enhancing environmental tolerance.
— Complied with global safety standards: CE, UL and cUL
— Standard LCD model (IP20/NEMA1) with built-in PLC to support up to 10K steps
— Excellent heat-sink design. Able to operate at 50°C ambient temperature and to adjust automatically rated output value to make the AC drive to work continuously.
— Run fire mode while emergency to have uninterrupted smoke releasing and pressure adding
— Multi pumps control at fixed amount, fixed time circulating control. Able to control 8 pumps at the same time. (Such as Image01 and Image02, optional multi-control relay card is required.)
VFD-L Series



Sub-fractional low cost AC Drive. Specifically designed for low horsepower applications with built-in EMI filter to efficiently reduce electromagnetic interference and to conform to the CE EMI directive.
Specifications:
— Output frequency 1.0 ~ 400Hz
— Adjustable V/f curve
— Carrier frequency up to 10 kHz
— Auto torque boost and slip compensation
— Build-in MODBUS communication, baud rate up to 9600 bps
— Built-in EMI filter
Applications:
Simple wood cutting, conveyer belt, wire drawing machine, etc.