Delta PLC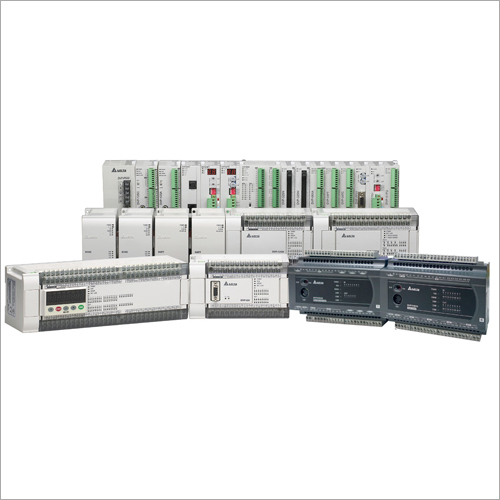 Delta PLC
Product Description
Weare remarkable entity, engaged in offering a superior assortment of Delta PLC, which gives high-speed,stable and highly reliable applications in all kinds of industrial automationmachines. Designed in compliance with internationalquality standards, this is a control system using electronic operations. Toensure flawless working, our offered Delta PLCis quality tested onwell-defined parameters. We offer this PLC in bulk quantity to our renownedclients at affordable price.
What is a PLC – Programmable Logic Controller?
Programmable logic controller (PLC) is a control system using electronic operations. Its easy storing procedures, handy extending principles, functions of sequential/position control, timed counting and input/output control are widely applied to the field of industrial automation control.
Category List
Hot Swappable Mid-range PLC - AH Series
AH Series PLC provides automation solutions for high-level applications. The combination of modularized hardware structure, advanced functions, and the highly integrated software provides a system solution for process control applications. In addition to various function blocks (FB), excellent price/performance, and an abundant selection of extension modules, AH Series PLC also provides multi-axis motion control via motion network, such as EtherCAT, to perform high-speed, high-precision machine control. The exceptional system expandability also greatly reduces the system cost for a broad range of applications.
Compact Modular Mid-range PLC - AS Series
The Delta Compact Modular Mid-range PLC AS Series is a high performance multi-purpose controller designed for all kinds of automated equipment. It features Delta's self-developed 32-bit SoC CPUs for enhanced execution speed (40 k steps/ms) and supports up to 32 extension modules or up to 1,024 inputs/outputs. The AS series provides accurate positioning control for up to 8 axes via CANopen motion network and max. 6 axes via pulse control (200 kHz). It is widely used in diverse automated equipment such as electronics manufacturing, labeling, food packaging, and textile machines.
Programmable Logic Controllers - DVP Series
Delta's DVP series programmable logic controllers offer high-speed, stable and highly reliable applications in all kinds of industrial automation machines. In addition to fast logic operation, bountiful instructions and multiple function cards, the cost-effective DVP-PLC also supports various communication protocols, connecting Delta's AC motor drive, servo, human machine interface and temperature controller through the industrial network in to a complete "Delta Solution" for all users.
ISPSoft Programming Software
ISPSoft is a highly accessible programming software application for Delta's programmable logic controllers (PLC). With its modular editing interface, ISPSoft integrates hardware configuration, network configuration, and motion control programming into the same editing platform. The user-friendly ISPSoft provides graphical interfaces and convenient wizards to enhance software accessibility as well as editing flexibility. ISPSoft offers up to 5 programming tools*, including: Ladder Diagram (LD), Function Block Diagram (FBD), Sequential Function Chart (SFC), Instruction List (IL), and Structured Text (ST), allowing users to choose proficient tools for better editing efficiency. Delta's ISPSoft adopts the IEC 61131-3 standard and supports PLCopen® function blocks for quick configuration of motion control programs that helps you save on project development time and achieve more intelligent and powerful industrial control solutions.